Human Name: Gary Blood
Other World Neme: Abigar The Bringer Of Blood
Age in the real world: 18
Age in the underworld: ?
His Follower: Demon Fox (Name Sky) Can turn into his horse, and has the key to his memory.
True form: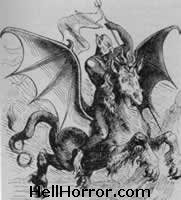 Skills: Uses his lance to takes water from the human body, control blood flow. when end a bad mood he has the power to suck out soul to pump up his power. Can use his lance to take the life from people and can bring back from the bead one of his legions for 10mins.
Occupation: Student in high school/ Killer and controler of legions.
Techniques: Master of Aikido, and Master of the Lance
Background: A warrior demon who commands sixty legions. Weyer names him as a god/king and Grand Duke of Hell. Appears in a pleasant form. Rides a horse and carries a scepter and lance. Abigar started off in the world as a low commoner that worked and slaved. They raped and beat him every day until he could ot take no more and he snaped and killed the people that he was serving. He did not care what was going to happen next he just was laughing and saying ( There's no more no more blood). The people walked into the house, and behole that everyone is dead but his is not. As they came in they seen him in the corner huging the body of the dead and say just one more one more were is it the Life you taken from me.
The next day they hung him, and cut his body into piece's to repent for what he's done, and his last words are you will understand when i come back to this world i will make you and ur kids understand my pain. The Demon guide came to him after he was he came to the after life saying ( would u like to get revenge, and kill the ones who forsaken you) He says Yes. Time has past, many days, and wars. he have seen them all want been in the bloodshed up until the point were he finds love. He killed the love that he had why did he do it he does not know but his unconscious mnd know what really happen on that late night.
His Dark Hour: Once there was a power that he never known and came to him in a form of a girl that he loved, but the price u have to pay to take that power and evolve into the perfect monster it comes with the loss of the unkonwn love.
Personality/Like&Dislikes: Evil, love to hurt and hunt down people. Like: to take control of people and use them up then throw them away like trash. Dislikes: Happyness, Love, and feelings.
Weakness: Seeing the Girl he loved and seeing that bloody day replay over and over in his head.
Dreams: To live until the end of time & understand why he killed the love of his life.
Future: unkown
Person behind the evil: unknown